Ideal from birth - 2 years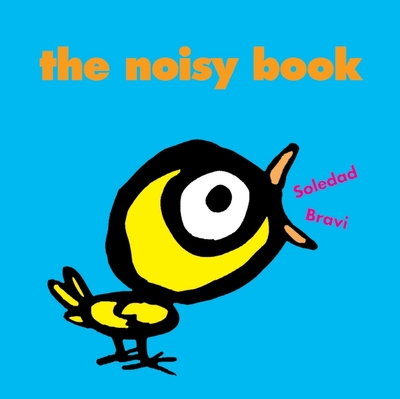 $25.00
NZD
Category: Board & Cloth Books
The owl goes hoo hoo. The cat goes meow. The raindrop goes plop. The door goes knock knock. The baby goes waaa. Daddy goes shhh. The kiss goes mwahh. With over 100 pages, this unique board book is full of bright, bold illustrations and lots of noises to make. It's perfect to share with a baby or toddle r. ...Show more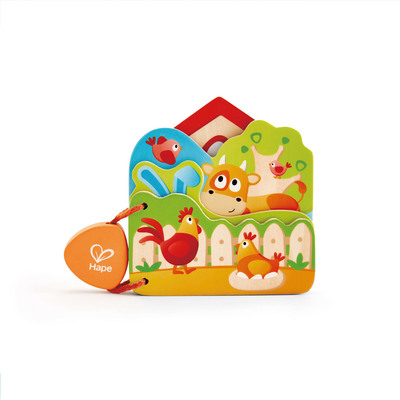 $13.00
NZD
Category: Board & Cloth Books
Age: 10+ Months Give your baby an early introduction to reading and the wonders of the farmyard with this charming book. Made of wood and safe to chew, it features bright, happy illustrations on every page.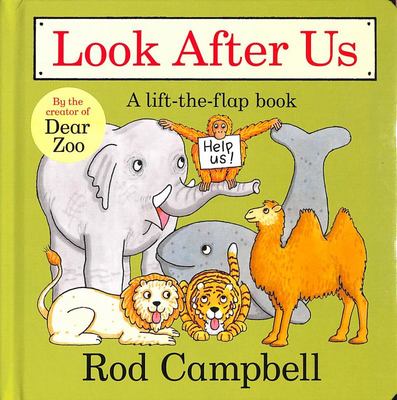 $15.00
NZD
Category: Board & Cloth Books
Lift the flaps to meet elephants, tigers, orangutans and more in Look After Us, a first book about endangered animals by Rod Campbell, creator of the bestselling preschool classic Dear Zoo. Toddlers will love lifting the flaps to discover five different endangered animals in their natural habitats. Wit h a special fold-out ending that shows what a difference conservation has made to whales, Look After Us has a positive message about how to look after our world and the animals that live in it. With flaps to lift, a simple text with a repeating pattern and bright, bold artwork, Look After Us is the perfect introduction to conservation for young children who are fans of Dear Zoo. ...Show more
$15.00
NZD
Category: Board & Cloth Books
The original, award-winning Felt Flap series - perfect for babies and toddlers!
$17.00
NZD
Category: Board & Cloth Books
I love your quiet stories, songs sung loud in the rain. No one can hug like you, Mumor makes me feel the same. Brave mums, playful mums, cuddly mums, quiet mums - every mum is special in her own way. Charming, heartfelt and delightful, There's Only One Mum Like You is a tribute to the unique magic of mu ms, now in board book format for the first time!   ...Show more

$17.00
NZD
Category: Board & Cloth Books
Reassuring and nurturing, this book is the perfect way to remind your little one how much you love them while you are at work. Emotive and gentle, When Mummy Goes to Work introduces the concept of work to babies and toddlers through rhyming text. It also offers parents the ideal talking point for conve ying their own feelings about going to work and routine in a reassuring and nurturing manner. Beautiful artwork reminiscent of bestsellers Guess How Much I Love You and Dogger draws parallels between the activities of the child and parent throughout the day. This is the ideal gift book for anyone who is returning to work after the birth of a new child. ...Show more
$27.00
NZD
Category: Board & Cloth Books
Follow This Line takes you on an adventure across varying landscapes by tracing a continuous line throughout the book. Starting on the front cover, the line zigs and zags across scenes both urban and pastoral, playfully spiraling into the shapes of animals, faces, buildings, vehicles and more, all witho ut breaking its stride. Along their journey, kids will be asked to count, sort, and identify objects, creating an entertaining opportunity to practice early concepts through these attractive, whimsical, Scandinavian-style designs. ...Show more
$9.00
NZD
Category: Board & Cloth Books | Series: Push Pull Slide
A first novelty board book about a magical rainbow and her friends Unicorn, Dragon and Mermaid, with push, pull and turn mechanisms. My Magical Rainbow introduces readers to a friendly Rainbow character who brings all her magical friends together, including the popular unicorn, dragon and mermaid. With push, pull and turn mechanisms and a sparkly foil cover wheel, little ones will have lots of fun joining the magical creatures' colourful day.Yujin Shin's beautiful illustrations are paired with gentle rhyming text to create a perfect magical world, with bright, sparkling detail and things to spot in four magical scenes. My Magical Rainbow is another exciting addition to the My Magical series, based on the popular Busy Book format. ...Show more
$9.00
NZD
Category: Board & Cloth Books
A first novelty board book about busy diggers, with push, pull and sliding mechanisms. Push, pull and slide the tabs to get to work in Busy Diggers. Scoop up dirt, clear rubble and control mighty metal machines in this fun book about diggers and everything they do at the building site.Children will lov e playing with this bright and colourful board book with gentle rhyming text and wonderful illustrations by Edita Hajdu, which is part of the popular Busy Book series. ...Show more
$17.00
NZD
Category: Board & Cloth Books
Where has Stick Man gone? Can you find him? Lift the colourful felt flaps in this fun chunky board book, perfect for small hands, until you find Stick Man! While there is so much fun to be had, this board book will also help increase hand-eye co-ordination, develop speech and aid learning through repeti tion. ...Show more
$17.00
NZD
Category: Board & Cloth Books | Reading Level: Children's - Kindergarten, Age 5-6
"She's nice, my mum . . . My mum's a fantastic cook,and a brilliant juggler. She's a great painter,and the strongest woman in the world! She's really nice, my mum. A warm, funny tribute to Mum (and to mums everywhere) by the brilliant author/illustrator Anthony Browne."
$9.00
NZD
Category: Board & Cloth Books | Series: Busy Bks.
A first novelty board book about busy cars, with push, pull and turning mechanisms. Push, pull and slide the tabs to zoom about town in Busy Cars. Lower the convertible's roof, swish the windscreen wipers and charge the car at the end of the day in this fun book about fun, fast, four­wheeled vehicles.Ch ildren will love playing with this bright and colourful board book with gentle rhyming text and wonderful illustrations by Mel Matthews, which is part of the popular Busy Book series. ...Show more