Ideal from birth - 2 years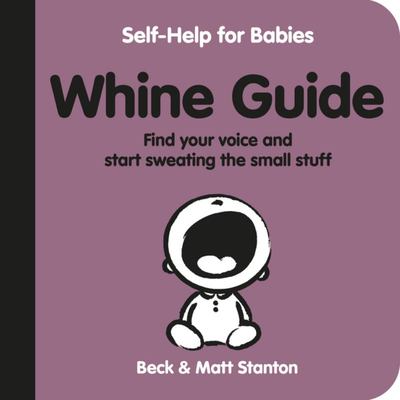 $17.00
NZD
Category: Board & Cloth Books | Series: Self-Help for Babies
Self-Help for Babies: if you don't laugh, you'll cry. Dear Baby Do you feel like you're speaking a million words a minute, but no one truly understands you? Don't worry. A lot of babies feel this way. We're here to help you get your message across, when it matters most. Chat soon! If you've had a baby , you've no doubt had some well-meaning parent smugly say, 'You know, babies don't come with a manual.' Well, now your newborn can READ the manual with Self-Help for Babies, a hilarious new series from bestselling Australian authors Beck and Matt Stanton. ...Show more
$17.00
NZD
Category: Board & Cloth Books
A joyous version of the nativity story told by a curious little owl. It is a silent night and Little Owl is sitting in their tree with a waiting feeling, when a star sparkles along. "Come with me," says the star, and Little Owl follows, as do three men on camels and shepherds with their sheep. They soon find themselves part of the happiest scene on Earth. Perfect for small hands, this sturdy board book features a sparkly gold starburst foil effect on the cover and a triumphant last page! ...Show more
$21.00
NZD
Category: Board & Cloth Books
What does a giant's foot feel like? How about a rotten egg, or a bumpy crocodile? Find out in this book that's full of the most REVOLTING things to touch and feel!
$15.00
NZD
Category: Board & Cloth Books
Touch the Gruffalo's terrible tusks, feel his knobby knees and tickle his purple prickles with this interactive touch and feel book based on the bestselling picture book. Perfect for young Gruffalo fans, The Gruffalo Touch and Feel Book is part of an exciting range of books for toddlers, featuring Julia Donaldson and Axel Scheffler's iconic creation, the Gruffalo. Specially designed to appeal to even the youngest child, simple patterns and bright colours combine with Axel Scheffler's instantly recognizable artwork to keep preschool children entertained for hours.Also available in the My First Gruffalo series: My First Gruffalo Little Library, The Gruffalo Puppet Book and Gruffalo Growl ...Show more
$18.00
NZD
Category: Board & Cloth Books
Conjuror Cow is a brilliantly funny lift-the-flap board book by Julia Donaldson, author of The Gruffalo, and Nick Sharratt, illustrator of You Choose. Everyone's waiting, the lights have gone low. So open the curtains and on with the show! It's Conjuror Cow's big night and she is feeling nervous - will she be able to pull a white rabbit out of her hat? Lift the flaps to see what she makes appear instead. A bunch of flowers? A pig? And lots of pants?! Find out if she manages to wave her wand and save the magic show. ...Show more
$23.00
NZD
Category: Board & Cloth Books | Series: The Very Hungry Caterpillar | Reading Level: 2+
A much-loved classic, The Very Hungry Caterpillar has won over millions of readers with its vivid and colourful collage illustrations and its deceptively simply, hopeful story. With its die-cut pages and finger-sized holes to explore, this is a richly satisfying book for children.
$15.00
NZD
Category: Board & Cloth Books | Series: Little Rabbit
Oh no, Little Rabbit has hurt his arm. And there's blood! Can you help him? Blow gently three times, try a bandage, a rhyme, but he's still crying... Let's give his ears a stroke and wipe his tears. There, all better! Off you go, Little Rabbit! This follow-up to Tickle My Ears and Bathtime for Little R abbitis a perfectly simple interactive board book for children who love to take care of Little Rabbit. ...Show more
$15.00
NZD
Category: Board & Cloth Books
Open the presents and find out what Santa has sent in this fun lift-the-flap Christmas book from the bestselling creator of the preschool classic, Dear Zoo. Toddlers will love lifting the flaps to discover what Father Christmas has sent, and finding the perfect present at the end.With bright, bold artwo rk, a simple, engaging text and a touch-and-feel surprise ending, Dear Santa by Rod Campbell is the ideal Christmas gift for fans of Dear Zoo - and the chunky board book format and sturdy card flaps make it great for small hands. ...Show more
$10.00
NZD
Category: Board & Cloth Books | Series: My Magical
My Magical Owl takes readers on a wonderful journey with a wise little owl. With push, pull and turn mechanisms and a sparkly foil cover wheel, little ones will have lots of fun taking part in the owl's exciting adventure! Yujin Shin's beautifully coloured illustrations are paired with gently rhyming t ext to create a perfect magical world, with bright, sparkling detail and things to spot in four magical scenes. My Magical Owl is another exciting addition to the exciting My Magical series, based on the popular Busy Book format.Enjoy more magical adventures with My Magical Unicorn, My Magical Dragon, My Magical Fairy and My Magical Flying Pony. ...Show more
$30.00
NZD
Category: Board & Cloth Books | Series: The Very Hungry Caterpillar | Reading Level: Children's - Kindergarten, Age 5-6
This soft cloth book with bright, colourful pictures featuring Eric Carle's best-loved creation is sure to make babies smile. Perfect for making snuggle-time extra special.
$19.00
NZD
Category: Board & Cloth Books
Hello, I am Little Fish, swimming in the sea. I love playing with all my friends, come along with me! Explore exciting textures with Little Fish and his friends in this fun, interactive touch-and-feel book with a bouncy rhyming text. Babies and toddlers will love exploring the world of Little Fish in an other deep-sea delight from Lucy Cousins, multi-award-winning creator of Hooray for Fish! With vibrant artwork and playful imaginative underwater creatures, little ones will be enthralled by Little Fish's bumpy, fluffy, rough, crinkly, shiny and squidgy friends!   ...Show more
$16.00
NZD
Category: Board & Cloth Books | Reading Level: Children's - Kindergarten, Age 5-6
For brave hunters and bear lovers, the classic chant-aloud by Michael Rosen and Helen Oxenbury is now available in a delightful puzzle book edition. Imagine the fun of going on a bear hunt -- through tall, wavy grass (swishy swishy swishy! ), swampy mud (squelch squelch squelch! ), and a swirling whirl ing snowstorm (hoooo woooo! ) -- only to find a "real" bear waiting at the end of the trail! The perfect gift for a preschooler, this exciting novelty edition includes seven press-out puzzles featuring Helen Oxenbury's lively art. ...Show more