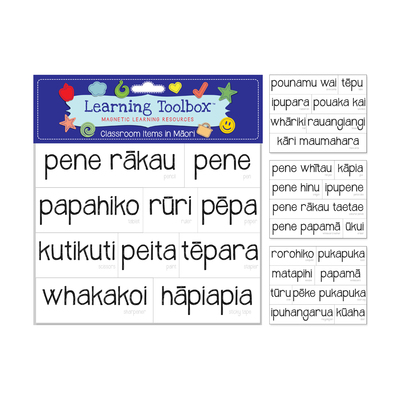 $12.00
NZD
Category: Te Reo Maori Language
Discover the words for common classroom items in Te Reo Maori. Students will learn the words for things they use everyday including stationery, furniture and lunchbox! Learning Maori is fun and easy with these magnetic resources. An essential in classrooms across New Zealand, these magnets are easy to read and stick to metal surfaces or whiteboards. These Maori language magnets work alongside the other magnet packs in the range to create a comprehensive te reo Maori learning program. The Maori words are large and designed to be read from a distance while there is a more discrete English translation below to help with memory recall. This means that teachers do not need to be fluent to be able to help their students learn. Designed with Maori language teachers these magnets feature the most commonly used form of the word appropriate for learning Maori in any region of New Zealand. A great bi cultural resource for both children and adult students of the Maori language, these can easily used on the fridge in a home learning setting as well. T This pack contains 32 magnets. Each magnet is 5cm and of various lengths. ...Show more
$19.00
NZD
Category: NZ Board & Cloth Books
A te reo Maori board book edition of this core Gecko Press backlist title, "Who's Driving?" A new play on the fable of the tortoise and the hare. This is a picture book for drivers of all ages. "Simply told, with a minimum of fuss, Who's Driving? is a good example of less is more... For best results, tackle at full throttle." The Age (Australia) "A joyous ride for any pre-schooler in love with the fast and the furious." Dominion Post (NZ) ...Show more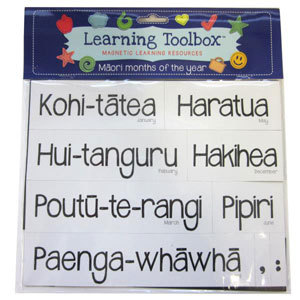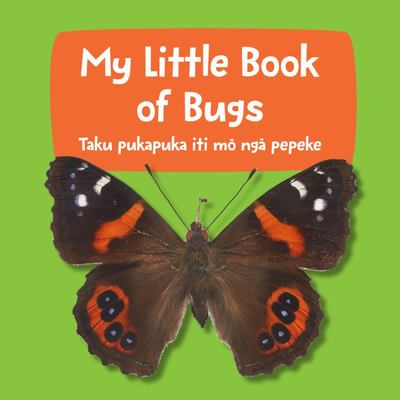 $20.00
NZD
Category: NZ Board & Cloth Books
A beautiful board book for New Zealand babies and their Whanau, featuring amazing photos of bugs in the Te Papa collection. In both English and te reo Maori, it is a perfect gift for any baby and will be well treasured.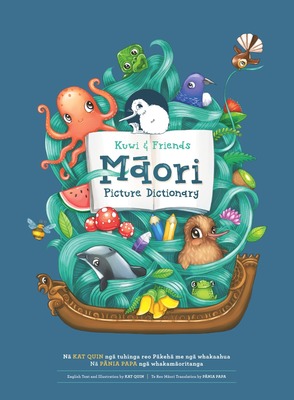 $35.00
NZD
Category: Te Reo Maori Language
Beginners Māori Language Picture Dictionary, for the Whole Family. From the #1 bestselling and award-winning author and illustrator of the Kuwi the Kiwi series, Kat Merewether, comes a large scale, stunningly illustrated visual dictionary. Full of over 1000 basic words in te reo Māori and English, perfe ct for every New Zealander.  A fun, easy-to-use resource for those wanting to discover, learn and use everyday words in te reo Maori. The illustrations are designed to help with comprehension, particularly for younger learners. Visual cues can assist with retention of language, to recall spoken and written words.  68 fully illustrated pages, in a large format (265 x 366mm), in vibrant full colour, with over 1000 te reo Maori words, translated into English. Embedded with gorgeous Kuwi the kiwi (and friends) illustrations.  Designed for everyday use, in the whanau (family), kura (school) and for all New Zealanders. Ages 0-100+. A portion of each sale goes to charity Kiwis for Kiwi. ...Show more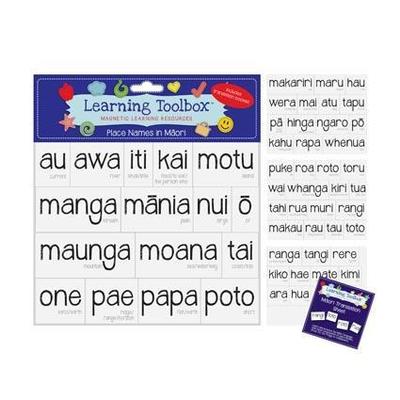 $12.00
NZD
Category: Te Reo Maori Language
Learn Te Reo Maori today, these easy to use magnetic word tiles will stick to any fridge or whiteboard. The English equivalent is shown underneath to enforce the meaning of each word. A great way to get kids learning interacting! The list of place names are geographic labels and included hills, mountai ns, rivers etc. A wonderful learning tool for any classroom. ...Show more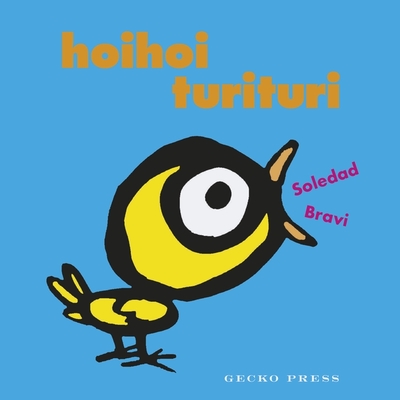 $25.00
NZD
Category: Te Reo Maori Language
A te reo Māori edition of the top-selling The Noisy Book. Ka aauuuuu te wūruhi [The wolf goes aaooooo] Ka ū ū ū te makimaki [The monkey goes oo oo oo] Ka kū kū te kererū [The pigeon goes coo coo] Ka kihi kihi a Māmā [Mama goes kiss kiss] With over 100 pages, this unique boardbook is full of bright, b old illustrations and lots of noises to make - it's perfect to share with a baby or toddler. ...Show more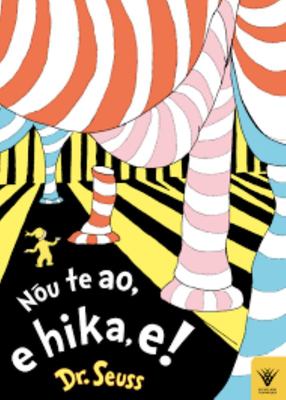 $30.00
NZD
Category: Te Reo Maori Language
He whakamāori i tā Dr. Seuss pakiwaitara rongonui, Oh, the Places You'll Go! 'Me mihi ka tika, te toa o te rā! Tūrou, Hawaiki! Tō pai! Wehi nā!' Topa mai, taka mai, ko ngā piki me ngā heke o te ao o te tangata te aronga nui o tēnei kōrero reka nā te mātanga, nā Dr. Seuss. He kupu akiaki kei roto e mauma hara ai te tangata ki ōna painga, e mataara ai ki ngā uauatanga, me te toro mātātoa atu ki te ao e tāwhiri mai ana. 'He koi koe ā-runga. He kama ā-raro. He kākano koe e kore e ngaro.' I Nōu te Ao, e Hika e!, kua mau i a Karena Kelly te paki, te toi, te taki me te koi o Seuss, e mōhio whānuitia ana, i tana tārai i te kupu hei reo Māori mō te pakiwaitara rongonui nei. A Māori language translation of Dr. Seuss's classic for young and old, Oh, the Places You'll Go!  'Congratulations! Today is your day. You're off to Great Places! You're off and away!' From soaring high-flyers to lurches and slumps, Dr. Seuss's wonderfully wise Oh, the Places You'll Go! speaks to the ups and downs of life. It encourages us all to remember our strengths, recognise the challenges, and grab life with both hands. 'You have brains in your head. You have feet in your shoes. You can steer yourself any direction you choose.' In Nōu te Ao, e Hika e!, Karena Kelly brilliantly captures Seuss's verbal wit and wisdom, and his trademark rhythm and rhyme, while finding this great story its Māori voice. ...Show more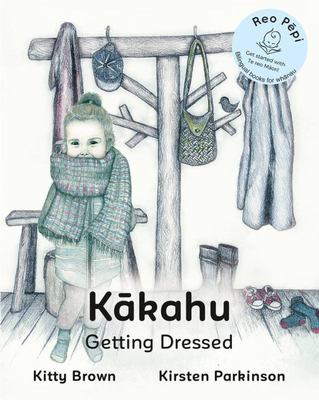 $18.00
NZD
Category: Te Reo Maori Language | Series: Reo Pepi
Kakahu teaches one of the most useful and practical instructions for young whanau members to know, getting dressed. Learn how to dress for Te Reo Maori success.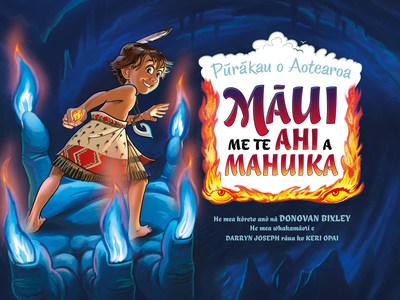 $20.00
NZD
Category: Te Reo Maori Language | Series: Pūrākau o Aotearoa
Donovan Bixley re-tells the story of how Maui captured the secret of fire. The traditional tale but with Donovan's unique twist and trademark humour. The pictures are bright and bring their own level of humour to the book. Darryn Joseph and Keri Opai ensure that the story is accurate and culturally appr opriate and translate the story for the Te Reo edition. ...Show more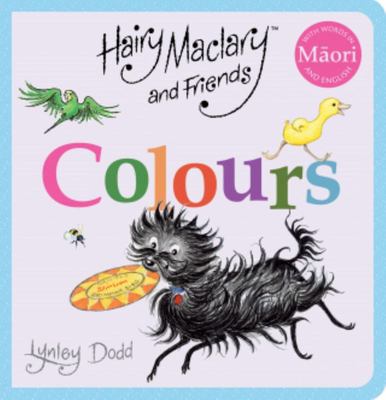 $13.00
NZD
Category: NZ Board & Cloth Books
A boisterous bilingual board book that introduces littlies to colours with the help of Hairy Maclary and his friends! A gorgeous board book with pictures of Hairy Maclary, Scarface Claw and other favourite characters created by Lynley Dodd to teach children their colours in Maori and English. This speci al little volume is perfect for the young learner and helps to incorporate te reo Maori into everyday life. Perfect for children ages 3 months to 3 years. ...Show more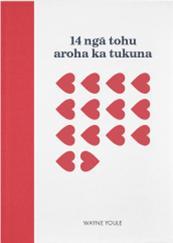 $20.00
NZD
Category: Te Reo Maori Language
When we're apart from the ones we love, how do we get our kisses to them? We blow them! The blown kisses in this charming book travel far. Tied to a rocket, attached to a pigeon, kicked like a rugby ball – and many other imaginative ways. Wayne Youle (Ngāpuhi, Ngāti Whakaeke, Ngāti Pākehā) is one of A otearoa New Zealand's leading contemporary artists. His work is bright, playful and full of kindness. Wayne lived in isolation for 14 days during the COVID-19 lockdown. He created 14 ways to share blown kisses with his sons. This book is dedicated to everyone around the world in lockdown who can only blow their kisses. A book for children. And a delightful gift for anyone. Available in te reo Māori and English. ...Show more